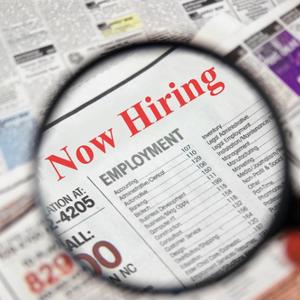 How to find the right employee
January 10, 2018 2:23 pm
Leave your thoughts
Although 2017 may have had its low points, employment bounced back in a big way, an encouraging sign that businesses are thriving. Indeed, over 2 million jobs were created over the 12-month period, according to the Department of Labor, the second year in a row employment was at or over the 2 million mark.
"Each bad hire cost employers an average of $14,900 in 2017."
At the same time, though, the individuals that companies hired didn't quite measure up to business owners' expectations. Almost three-quarters of entrepreneurs were adversely affected by a bad recruitment decision last year, based on a survey conducted by Harris Interactive on behalf of CareerBuilder. These errant hires wound up costing companies, on average, $14,900 for every worker whose performance didn't pass the sniff test
Rosemary Haefner, chief human resources officer at CareerBuilder, noted that the fallout of mistaken staff decisions, unfortunately, almost never occur in a vacuum.
"It's important to note that there's a ripple effect with bad hires," Haefner warned. "Disengagement is contagious – poor performers lower the bar for other workers on their teams, and their bad habits spread throughout the organization."
Engagement is an ongoing problem at many workplaces. According to Gallup's State of the Global Workplace study, 85 percent of employees are either not engaged or actively disengaged when they're on the job.
Confidence is key
How do business owners find the right person for the job and avoid the disengagement trap? For starters, managers and human resource officers should prioritize looking for desirable character traits. Liz Ryan, CEO and founder of coaching and consulting firm Human Workplace, wrote in Forbes that she looks for individuals who exude self-assurance.
"The most important quality to look for in a new hire is comfort in their own skin, also known as confidence," Ryan explained. "I'm not talking about fake, buzzword-laden, bro-type brashness. That's the opposite of confidence."
She added many people often confuse braggadocio for confidence, when in actuality, they're very different. Confident individuals are those who don't have to toot their own horns, but let their actions do the talking for them. In short, look for indications that potential hires are level-headed individuals who explain what they have to offer in a very matter-of-fact manner.
Establish filters
Of course, when help wanted signs and ads go public, there's no knowing who will walk through the company doors looking to be interviewed. Taking the time to speak with individuals who don't have the right skills or proper qualifications can be a major time waster. That's why Haefner says it's essential to put the right filers in place early on so the pool of potentials is appropriately tailored.
The question-and-answer aspect of the interview process allows business owners to get a better idea about the personality and background of the individuals applying, but Ryan says another good trait to look for are interviewees who are similarly inquisitive.
"Hire the person who asks the most insightful questions at their job interview," Ryan advised. She also recommended really listening to applicants' answers, giving added weight to responses that are insightful rather than by the book or overly cut and paste.
Consider workers who live overseas
With the unemployment rate at a mere 4.1 percent, according to the most recent data from the Labor Department – the lowest jobless rate since 2000 – the pool of qualified candidates isn't as deep as it used to be. This may explain why so many companies had trouble finding qualified candidates in 2017. Human resource experts recommend thinking outside the box to find diamonds in the rough. For example, 23 percent of businesses in a separate CareerBuilder poll said they expected to widen their employment net by recruiting potential hires who live outside the U.S. And close to 40 percent plan on speaking with former workers to see if they'd be willing to come back.
Hiring the right workers can sometimes seem like a shot in the dark. Here at Hudspeth Law Firm, we shine a light on the process by providing business owners with the practical tools they can use to properly vet candidates. Plus, with our representation in over a dozen countries, we can locate entryways through which businesses can tap into foreign markets, narrowing their search for the best and brightest employees.
Categorised in: Business Law
This post was written by