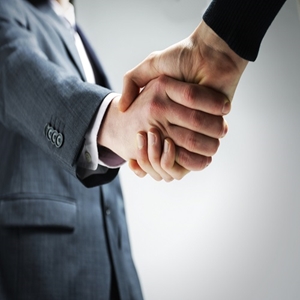 4 reasons why a partnership can make sense
September 29, 2017 10:43 am
Leave your thoughts
For the entrepreneurially inclined, it's a question that just about everyone asks themselves: Is it worth my while to partner with someone to get a company up and running?
Partnerships serve as an effective business model that many people find works best for them. In addition to being easier to establish, partnerships tend to be fairly inexpensive to get off the ground, require minimal paperwork and are frequently tax advantaged, meaning they traditionally don't have to pay income tax.
At the same time, though, sole-proprietorships, S-corporations and limited liability corporations have their pluses as well. How do you decide which one is right? Here, we'll talk about some of the perks of partnering that may strike a chord with you:
"A partner can serve as a sounding board."
Provides perspective
Every company – regardless of its type or the customers it serves – starts with an idea. These ideas are hashed out over time and built upon, often by talking them out with friends, family and co-workers who may have their own opinions on how to move forward.
Partnering with someone in launching a company is the ideal way to always have a sounding board through which you can toss out ideas and get his or her reaction. This individual may not always agree, but can bring to the table ideas that you may have not considered versus going about building your start-up on your own. The key is finding a person who shares your ambitions but is independent enough to not necessarily serve as a "yes man," offering alternative solutions when and where appropriate.
Makes adversity seem less burdensome
Veteran entrepreneurs will be the first to acknowledge that launching a business comes with its fair share of trials. Everyone has an image of how their company will grow and develop, assuming everything goes as it is supposed to. The problem is, issues almost inevitably transpire that can throw this idealized vision off track. Partnerships can endure these trials more effectively by creating the sentiment that you're both in it to win it.
Adds experience
Even though you may have long had an interest in the business venture you're pursuing, making it a career path adds a whole new element, as there are various working parts to business creation that you may not have realized at first blush. This is why entrepreneurs will often turn to a partner, who may not possess the same kind of knowledge about the industry itself, but has a business management background. In tandem, partnerships can accomplish tasks that may have been difficult or impossible to do with only one person involved.
Easy to dissolve
Let's face it: Businesses don't always survive. Whether due to a poor service model, miscalculating demand, unsustainable overhead expenses, or any number of other reasons, ventures that were promising go under. Indeed, according to the Bureau of Labor Statistics, only 50 percent of businesses with employees are still in operation by their fifth year.
Partnerships aren't immune to dissolution. Competing personalities may clash that make a mutual parting the best play. Fortunately, partnerships are fairly simple to liquidate, especially in comparison to corporations, where there tend to be more red tape and regulations that can complicate things. In other words, the fear of a partnership failing shouldn't prevent you from giving it a try.
Partnerships are the business equivalent of a marriage – they experience their fair share of ups and downs. It's how these experiences are reacted to that determines their viability. But when irreconcilable differences prove to be just that, partners can go their separate ways amicably.
At the Law Offices of Donald W. Hudspeth, P.C., we help turn legal problems into business solutions. We stop at nothing to protect the partnership interest of our clients, providing assistance with franchise disputes, collection matters, breach of contract and technology licensing agreements, among other services. Simply contact us online to set up a risk-free consultation.
Categorised in: Dissolution & Partnership Disputes, Starting a Business in Arizona
This post was written by