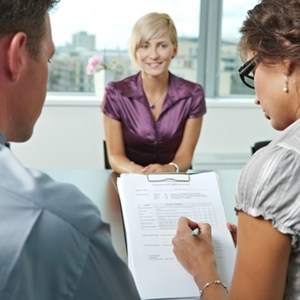 3 tell-tale indicators you've made a bad hiring decision
September 28, 2017 10:53 am
Leave your thoughts
As Labor Department figures have indicated, business owners are hiring again. Through two-thirds of the year, in fact, more than a million jobs have been added to the economy, which has sent the unemployment rate to 16-year lows.
But the hiring process isn't a one-and-done deal. In the United States, it takes about 24 days from beginning to end, according to a recent poll conducted by Glassdoor Economic Research.
But even when you've crossed all your t's and dotted all your i's – exhausting due diligence – what looked to be a promising prospect could turn out to be a bitter disappointment. And the longer the person goes without being corrected, or fired, the more this poor match can sap company resources.
How do you spot red flags early on? Fast Company recently spoke with a variety of employee relations and human resource professionals about this issue to get their take on what to be on the lookout for.
1. Asking for vacation time early on
There's no denying the typical American employee is a hardworking one, as several polls indicate those in the U.S. take off less time than workers in other parts of the world, particularly Europe. A poll conducted in May by CareerBuilder found 1 in 3 workers had no intention of vacationing in 2017, and of those who did, 30 percent said they planned on checking work-related emails, or staying in touch with the office some other way.
But if a hire is looking for personal time shortly after he's taken up the position, this could be a bad sign, says Karson Humiston, CEO of the recruitment firm Vanst Talent.
"It shows dishonesty, since they already knew about the trip before accepting your offer," Humiston told Fast Company. The only exception to this is if new hires inform their employer about a preplanned vacation during the interview process. Otherwise, it could be a forewarning of potential commitment issues.
2. Excessive smartphone usage
It sure seems like just about everyone has a smartphone today, as Americans are nothing if not constantly connected, whether to the internet, friends via texting or social media platforms like Twitter and Facebook. Although these devices may be a great form of entertainment and way to interact off the clock, wireless devices have found their way into the work environment, as 66 percent of employees admit to using their smartphones at the office several times per day, according to a poll from CareerBuilder.
Ian Caullay, director of employee relations at Oakland University's School of Business Administration, noted new hires should be going above and beyond the call of duty to impress those who've hired them in the early stages, demonstrating their work ethic.
"If somebody is comfortable enough texting away on their phone or having Facebook up on their computer during the first week, this person is way too comfortable, spending time on the clock on activities outside of their work," Caullay explained to FastCompany.
He added that if a new hire is distracted by mobile technology early on, one can only imagine how bad it could be a few months down the road.
3. Embellished qualifications
Prospective hires who detail or list half-truths about their experience is a particularly brazen behavior, but as several polls indicate, it happens more often than you'd like to think. Indeed, 75 percent of hiring managers say they've discovered phony facts on resumes, according to a recent poll conducted by CareerBuilder. Many workers themselves say they know of people who have misled during interviews, as 46 percent of respondents in a OfficeTeam poll indicated as much. That's up 21 percent from a similar survey done in 2011.
Are all these examples fireable offenses? Not necessarily, Caullay told Fast Company. Ideally, they can be used as teaching moments, giving new hires the opportunity to see what they've done wrong and how they can make amends.
"Stay on point about the specific issue so it's not coming off as a personal attack," Caullay advised. "Start by asking, 'What is your initial impression of the job thus far?' Then, share your initial observations."
Business owners have certain obligations to their workers, but these commitments are a two-way street. At the Law Offices of Donald W. Hudspeth, our extensive business and labor relations background can provide you and your company with the services you need to draw up employee contracts that protect your interests and give you the leverage necessary to make decisions that help keep your company lean and productive.
Categorised in: Business Law
This post was written by