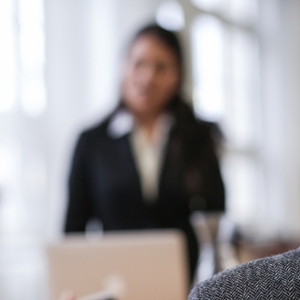 3 questions to stop asking during interviews
June 27, 2017 11:32 am
Leave your thoughts
The job interview is perhaps the most revealing aspect of the hiring process for small-business owners. Typically on the shorter side – no more than an hour – these meet-and-greets serve as a snapshot into what makes prospective hires "tick," and if what they bring to the table is worthwhile.
It doesn't take managers long before they know whether or not interviewees will be a good fit. In fact, in a recent poll, 51 percent of respondents said they formed an idea of whether the person was right for the job within the first five minutes, according to CareerBuilder.
That being said, there are certain questions that are best left unsaid, both because they lead to nowhere and may be inappropriate. The following are a few examples of what to avoid and why.
1. What made you decide to leave your current employer?
Of course, everyone has a rationale for why they're deciding to move on from their former place of position. But when this matter-of-fact question is posed to a prospective hire, interviewees may be loath to answer because it's private, according to Hubspot.
This line of inquiry doesn't necessarily have to be abandoned, but can be re-positioned. Instead, ask about what they like and dislike about their current role. This may spawn more compelling responses that go to what drives candidates in terms of goals.
2. What's your biggest area of weakness?
Ideally, every hire is always looking to improve and knows quite well what his or her weakness are. But the last thing that these individuals want to reveal about themselves – certainly as a first impression – is their shortcomings. As Hubspot noted, it puts candidates in a negative state of mind, when what they really want is to explain where they excel.
Remix this question by inquiring about some of the challenges the applicant faced at his former or current employer. This encourages self-reflection and positive thinking. In other words, it forces the prospective hire not to dwell on weaknesses but effective responses to adversity.
3. What's your salary history?
Few topics are more sensitive than earnings. While this is a common query on job applications, hires may be hesitant to talk about it in face-to-face settings, feeling it's presumptuous and may undermine the qualifications obtained whether through school or previous work experience. Additionally, it may be even be illegal to broach the subject, depending on the state.
Hubspot recommends steering clear of this question entirely and to mention salary only if an offer is made. The Massachusetts-based marketing and sales firm has a few other suggestions on what questions to steer clear of during the question and answer portion of hiring.
The interview process can be a delicate minefield, particularly for small-business owners who are new to a state or employment laws. A 2015 survey done by CareerBuilder found that 20 percent of employers had unwittingly asked a question that was illegal. Additionally, 33 percent have posed questions that they weren't sure about being permissible.
Here at the Law Offices of Donald W. Hudspeth, P.C., we specialize in business law. And even though we're headquartered in Arizona, our services extend to California, New York City, Michigan, Washington, Florida and Oregon. We have the knowledge you need to ensure you're in compliance with the state's employment regulations.
Categorised in: Business Law
This post was written by