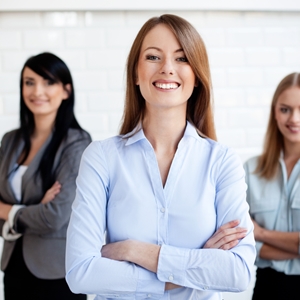 Women-owned businesses coming up roses this spring
May 22, 2017 12:46 pm
Leave your thoughts
With several indicators suggesting the economy is firing on all cylinders, small-business owners are feeling awfully good about how things are going. Indeed, a recent survey from PNC Financial Services Group found that 88 percent percent of entrepreneurs are optimistic about where the national economy is at present and the direction is headed. They've even more bullish about the local economy, with almost 90 percent believing conditions will continue to strengthen.
These sanguine sentiments are felt among women as well, as female-owned businesses are growing by leaps and bounds, newly released numbers reveal.
"Women own over 11 million businesses in the U.S."
Last year, a total of 11.3 million companies in the U.S. were owned by women, according to an annual analysis on business creation spearheaded by American Express. Employing almost 9 million people, these same companies generated in excess of $1.6 trillion in annual revenue.
45 percent increase in women-led businesses
Perhaps more impressive is the rate at which women-owned businesses have sprouted up. For instance, from 2007 to 2016, women-led firms increased 45 percent, the study found, well above the 9 percent uptick observed among all businesses. Additionally, employment also rose, up 18 percent since the financial crisis, compared to a dip of 1 percent for businesses overall versus 2007.
Rhonda Abrams, noted small-business expert and best-selling author, indicated that women have played a vital role in injecting new life into the U.S. economy.
"The economic recovery has been a long, slow slog," Abrams wrote in a special for USA Today. "Without women starting businesses, we'd all be in much tougher shape."
"Approximately 1,100 businesses led by women launch daily."
3.5 million women-owned business created since 2007
Tracing back to 2007, approximately 3.5 million women-owned firms have launched, the American Express study revealed, basing its findings off of the 2012 Census. Of these, almost 80 percent are owned by minorities, predominantly African-Americans, Latinas and Asian Americans. All told, this translates to a net total of 1,100 women-owned business opening up per day.
This latest data adds greater context to reports indicating that women are increasingly taking on the mantle of primary breadwinner. For instance, in 2015, an estimated 42 percent of mothers were the lone or main income earner for their household, accounting for 50 percent or more of annual income, according to the Center for American Progress. This rate is up sharply from the mid-1980s, when roughly 25 percent of women had the highest household salaries, which was even lower in the 1960s and 1970s.
That so many women are creating their own companies is great for the economy and society at large. However, it takes more than initiative and drive to thrive. The legal matters related to business formation are more complex than ever and can lead to endless amounts of frustration and vexation.
The Law Offices of Donald W. Hudspeth have the time-tested experience and knowledge to cut through the red tape so business owners can get to work. Hover over the "Practice Areas" tab to see the variety of ways we can be of assistance.
Categorised in: Business Law, Starting a Business in Arizona
This post was written by