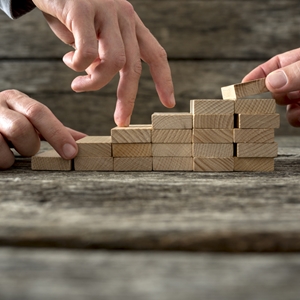 Employers can prevent workers from leaving, study suggests
May 16, 2017 12:26 pm
Leave your thoughts
Occasionally, workers who decide to leave their jobs do so because it's for the best of all parties involved. Irreconcilable differences sometimes can't be worked out, so sides agree to disagree and ideally walk away on amiable terms.
Based on a newly released study, though, in the vast majority of cases, a worker's exodus is usually avoidable and preventable, depending on the actions of an employer.
"Nearly one-quarter of workers leave to pursue better growth opportunities."
1 in 4 leave due to perceived lack of upward mobility
The Work Institute, which commissioned and carried out the study, came to this determination after analyzing approximately 34,000 exit interviews, detailing the reasons why workers decided to pursue other opportunities with another company or workplace. Virtually all of the most commonly cited reasons were within an employer's control. For instance, 22 percent cited insufficient career development, 12 percent referenced poor work-life balance and slightly less than 10 percent pointed to insufficient salary and/or benefits.
Danny Nelms, president for the Work Institute, indicated that business owners who are struggling with retention are making some common mistakes that are easily corrected.
"First, employers are not taking steps to understand their unique workforce," Nelms explained. "[Secondly], they are not using exit interview methodologies that are dependable in revealing the real reasons [why] employees leave."
Exit interviews have often proven to be useful tools for the companies that conduct them. According to a survey done last year by recruitment firm Robert Half, nearly 55 percent of respondents indicated they usually make adjustments to their hiring processes when feedback suggests that they ought to.
"While losing a high-performing employee can hurt a team or business, companies must recognize the opportunity it offers to gain valuable insight into improving their organizational structure or culture," said Koula Vasilopoulos, OfficeTeam district president.
"Employers lose more than workers because of turnover."
Turnover costs $15,000 per worker
Retention is not only good from a social standpoint – in terms of creating a positive workplace culture and camaraderie, which hires may inquire about when interviewed – but from an economic standpoint as well. According to the Work Institute's analysis, annual turnover costs employers $536 billion in losses, or the equivalent of $15,000 per worker.
While the reasons why workers quit may usually be within a boss' ability to change, implementing the changes may not be in a company's best interest, especially if what's desired isn't worthwhile in terms of cost-benefit analysis. However, something as simple as showing appreciation can often be the difference maker. Two-thirds of employees said they would consider leaving their current position if they didn't feel like their efforts were being recognized, according to a poll conducted by OfficeTeam. This is in contrast to what employers think about appreciation, as only 54 percent cited it as an understandable reason for why workers would walk.
"While monetary rewards are always crowd-pleasers, companies don't need to spend a lot to show appreciation to their workers," said Brandi Britton, OfficeTeam district president. "Regular praise and even tokens of gratitude can go a long way."
Here at the Law Offices of Donald W. Hudspeth, your business is our business. We stand behind our clients' interests and seek to see to it that they're realized. However, we also have years of experience in business law and are ready and willing to offer our expertise on critical elements to establishing a positive work environment. Our legal counsel includes employee relations, employee contracts, worker agreements and establishing the qualifications that make an employee indispensable.
Categorised in: Business Law
This post was written by