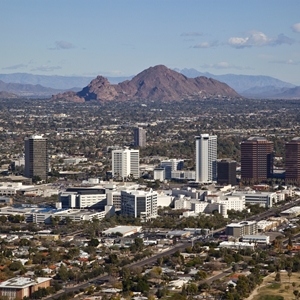 Maricopa new lead county for population growth
April 6, 2017 11:09 am
Leave your thoughts
Perhaps inspired by its superior business climate – not to mention wall-to-wall sunshine – Arizona was one of the most inbound states in America last year. But in one of the state's most well known counties, relocation activity was especially robust, according to newly released government data reveals.
Over a 12-month period, Maricopa County saw its population rise by nearly 81,400 individuals, according to recent statistics reported by the U.S. Census Bureau. That's the equivalent of 222 people per day, replacing Texas' Harris County as the county with the highest annual population growth. Harris County, meanwhile, garnered 56,587 people during the same stretch, translating to an average of around 155 inbound individuals per day.
An average of 222 people per day moved to Maricopa County in 2016."
National mover rate has plummeted to 11.2 percent
Families aren't moving with the kind of frequency that they did in the 1940s, despite upward mobility being much more available today than in yesteryear. For instance, in 1948, the U.S. had a mover average of 20 percent, according to Census data. But in 2016, only 11.2 percent of residents relocated, an all-time low.
Maricopa County, however, appears to be a notable exception, as many of those who have changed addresses assign the numbers eight, five and zero to their mailers, the first three numbers of Maricopa's Zip Code.
Peter Borsella, a demographer at the Washington, D.C.-based Census Bureau, noted that this migration pattern has for the most part been in place for more than a decade.
"In the early 2000s, Maricopa County was in the top one or two counties by numeric growth," Borsella explained. "From 2009-2011, Maricopa County saw much lower net migration than in the years before or after, which caused the county to drop out of the top population-gaining counties.
He added that while international migration flow to Maricopa isn't what it once was, the opposite is the case for U.S.-based residents.
GDP expansion in Arizona outpacing U.S.
What's drawing so many Americans to the Grand Canyon State? It may have something to do with Arizona's economy. In an outlook report performed by investment banking firm Wells Fargo, Arizona's gross domestic product last year grew at a faster clip than the national average and the rate of people out of work fell below 5 percent, which is considered full employment.
"Arizona's unemployment rate has essentially closed the gap with the national rate, marking a considerable accomplishment given that Arizona's labor force expanded three times faster than the nation over that period," the report detailed. "The strength in labor force and employment growth suggests real GDP growth may also have been stronger than is currently reported by the [Bureau of Economic Analysis] in the past few years."
"Less red tape makes Arizona a draw for entrepreneurs."
What's more, an increasing number of corporations are anticipated to flock to Arizona in 2017, according to the National Federation of Independent Business. This is thanks to the state's tax-friendliness, not to mention there being fewer regulatory hoops entrepreneurs have to jump through. NFIB also points to Arizona's year-round warmth as a major attraction.
Even though we provide services to business owners throughout the U.S. and in 15 countries, Arizona is the Law Offices of Donald W. Hudspeth's home. We're well aware of all the advantages of setting up shop here, but we're also cognizant of the quirks that can cause confusion or concern. Regardless of what type of business you own, we can provide the services that will get you and your company squared away. Reach us at our Phoenix headquarters today.
Categorised in: Arizona LLCs, Starting a Business in Arizona
This post was written by