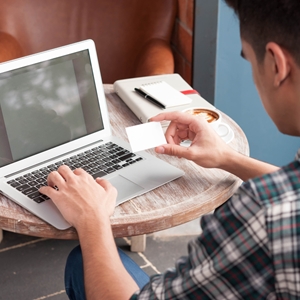 One-third of small-business owners doesn't have a website
March 17, 2017 6:05 pm
Leave your thoughts
Relative to other economic game changers – like the light bulb, television, radio and cotton gin – The internet is still a relatively new phenomenon. But it's ubiquitous role in the world today makes hard to imagine what life was like prior to its creation. Many household name businesses and trademarks of today wouldn't be what they are without the online universe.
Despite the web's seemingly limitless potential and entrepreneurs' boundless ability to take advantage, a surprisingly large percentage of small-business owners do not have this type of online presence, newly released survey data suggests.
Nearly 33 percent of entrepreneurs who own and operate a business don't have a website, according to a recent poll conducted by Washington, D.C..-based research firm Clutch. Roughly 355 small-business owners located in various parts of the country took part in the poll, 40 percent of whom had 10 or fewer employees.
Social media serving as an alternative
As to why they don't own a website, having a profile on social media was the main reason, but it wasn't the only one. Roughly 25 percent chalked it up to not having the technical know-how to create an online home and 22 percent said they didn't have the appropriate resources, be it money or manpower.
Alan Dale, who owns a Los Angeles-based internet business develop agency, noted that in the early 1990s, when the internet was just starting to take root, a select number of businesses had websites established. But that's changed dramatically in more recent years.
"[Back then], it was mainly entrepreneurs that were coming to the Internet," Dale told Clutch. "Now, more traditional businesses – brick and mortars – are saying 'We should get this figured out. Everybody else is on the Internet. I guess we need to be too.'"
He added that the learning curve is part of the reason why so many small-business owners aren't establishing an official online home.
"58 percent of Midwestern business owners have a website."
77 percent of owners out west have website set up
Where small-business owners physically set up shop is indicative of their potential of having a website. For instance, among respondents stationed in the Midwest, 58 percent said they had a site up and running. But for company owners in the West, 77 percent confirmed their business had an internet address.
Even though a considerable number of business owners still aren't online, their taking advantage of the marketing opportunity today more so than they have in the past. In a separate survey done in 2015, nearly 60 percent of "very small businesses" – defined for purposes of the survey as between one and five employees – confirmed that they weren't online, according to web hosting firm GoDaddy. When respondents were asked why they didn't have a presence on the internet, 35 percent pointed to their company being too small to bother. In second was lacking the technical prowess at 21 percent.
Blake Irving, GoDaddy CEO, noted that business owners have every right to do as they please, but their advertising capabilities are severely curtailed.
"What is clear is that these very small businesses are realizing that if they don't fully engage online, they are at a competitive disadvantage," Irving warned.
Many e-commerce businesses wouldn't be where they are today without the internet and the web's ability to advertise their services, name and logo. They're able to protect their uniqueness thanks to intellectual property laws. At the Law Offices of Donald W. Hudspeth, P.C., trademark law and copyright law are right in our wheelhouse. Business owners have turned to our legal team to both protect their intellectual property rights and avoid running into issues where they may be in violation. Being an Arizona-based firm, we understand intellectual property rights of the Grand Canyon State backwards and forwards, but those of California, New York City, Florida, Oregon, Michigan and Washington are also in our bailiwick.
Categorised in: Intellectual Property Law
This post was written by