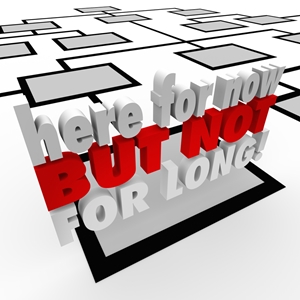 Here's the main reason why employees consider leaving
February 21, 2017 11:49 am
Leave your thoughts
Deciding who to hire has to be among the most important decisions business owners make on a day-to-day basis. And while they're ultimately the ones who determine who stays and who goes, when employees start look for different opportunities is an unknown. But a newly released study may provide clues as to why individuals look for something different in the first place.
Workers who get stuck in "position stagnation" – remaining in one role for too long – are more likely to pursue a different line of work than they would if they had the opportunity to progress, a recent study conducted by job recruitment firm Glassdoor discovered. Called "Why Do Workers Quit," the study examined 5,000 examples in which workers transitioned to a different role, be them those within the same company or to an alternative line of work or employer entirely. In instances where the transition was some place different, it usually related to workers who didn't feel their current job allowed for the type of upward mobility that they wanted to advance their career goals.
How much does turnover cost?
While employee turnover is inevitable, it can also be expensive. Turnover costs businesses approximately 21 percent of what their average employee makes in a given year, according to an analysis by the Center for American Progress. Interestingly, and contrary to popular belief, compensation levels and work-life balance don't have a statistically significant impact on how much turnover companies see in a given year.
At the same time, though, they do still have some impact, especially when they're implemented in a measured, complementary fashion, noted Andrew Chamberlain, Glassdoor chief economist.
"Employee turnover is costly for employers," explained Chamberlain. "Although you can't control everything when it comes to turnover … there are many ways you can control whether employees stay or go. Employers that work to improve company culture, offer competitive base pay and regularly promote and advance employees into new roles will retain them longer."
Chamberlain further advised business owners that a change in job title may not be enough to enhance employee satisfaction. New roles should have measurable adjustments, both in what workers are doing and in how they're being compensated, be it salary or benefits.
Job creation on the agenda for most companies
Job creation is on the docket for many business owners today, a sure sign the economy is improving. In the next five years, over 55 percent of entrepreneurs worldwide anticipate creating at least one position, according to survey details provided by Babson College.
How employment contracts are structured – or, the terms in which they're agreed to by two or more parties – is another way business owners attempt to control their rate of turnover. According to statistics compiled by the U.S Treasury Department, nearly 18 percent of all employees have non-compete agreements, preventing them from pursuing a different line of work for a predetermined period of time.
While these kinds of stipulations have their utility, they can also be inadvisable, depending on the circumstances. The contract law and business advisory experts at the Law Offices of Donald W. Hudspeth can provide you with the guidance you need to ensure that both you and your newly hired or long tenured staff are on the same page.
Categorised in: Business Law, Contracts & Transactions
This post was written by