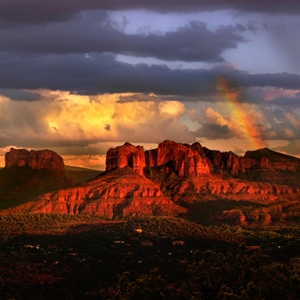 Arizona: Magnet for relocation
February 9, 2017 1:47 pm
Leave your thoughts
Whether for its warm temperatures, its scenic beauty or its vibrant economy – perhaps a mixture of all three – Arizona was a hub for many Americans who moved last year, according to newly released data.
Each year, United Van Lines, a relocation services and solutions firm, releases a list of the states that residents left and entered for various reasons, be it job-related, for quality of life or to move closer to family, among other possibilities. In 2016, the Grand Canyon State cracked the top 10, boasting an inbound rate of 57 percent, the report revealed. In fact, the West as a region was one that more people went to than left, with Oregon, Idaho, Washington and Nevada all seeing an increase in habitation.
"Home values have skyrocketed in the West."
West is best
Home sales data in recent months suggests as much, with list prices a good deal higher than other parts of the country. For example, in December – the latest month in which data is available – a median-priced residence in the West went for $341,000, according to numbers from the National Association of Realtors. That's over $100,000 more than the national median and a 6 percent increase compared to the corresponding month in 2015.
On a net move basis, Arizona didn't only fall in the top 10, but the top three. The Grand Canyon State was home to 1,137 net moves in 2016, KPNX reported from the analysis, second only to Florida, totaling 1,315.
Michael Stoll, professor and chair of the Department of Public Policy at UCLA, noted that many of those who pulled up stakes in 2016 were individuals who have reached retirement age.
"We are seeing more retirees than ever decide to relocate, and as a result, new retirement hubs are popping up in Western states," Stoll explained. "Interestingly enough, these retirees are leaving at such a fast pace that the movement of millennials to urban areas in the Midwest and Northeast is being overshadowed."
"Budding business owners are often found in retirement."
Arizona proven to be an ideal state to launch a business
Just as wisdom has no age limit, the same can be said for starting one's own business, something that many retirees decide to do some time after calling it quits from their career years. Retirement provides the time and attention budding entrepreneurs need to realize their business-owning aspirations, many of which find success in Arizona. The Copper State over the years has been selected as among the most business-friendly states in the country by highly respected magazines and periodicals, a status that remains in place. Based on economic data compiled by Forbes magazine, Arizona has one of the lowest unemployment rates in the country at slightly over 5 percent, job growth has risen nearly 3 percent over the past year and the state is No. 5 in the country for growth prospects.
While Arizona may have an environment that's amenable to launching a business, the startup process can be tricky to handle on your own – no matter where it's located. That's where the Law Offices of Donald W. Hudspeth, P.C., can lend assistance. From determining the most appropriate company status to register as, to forming a comprehensive business plan, we have the skills and experience to guide you through the process. Find out more by contacting us, and turn your dream business into reality.
Categorised in: Arizona LLCs, Business Law, Starting a Business in Arizona
This post was written by