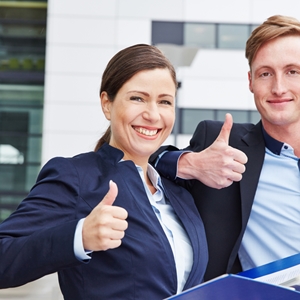 How To Start A Great Business Partnership
November 10, 2016 9:34 am
Leave your thoughts
The most important partnerships in your life will almost certainly be with your spouse and your closest friends. Just behind those? Your business partnerships.
Starting and growing your own business is a major undertaking, and it's hard to go at it alone. But two heads are better than one, and a trusted business partner can help you shoulder the load, work through the tough decisions and provide critical feedback to your ideas.
Of course, working with a partner brings its own set of challenges. You're no longer simply accountable to just yourself – another person is depending on you to complete your share of the work. Ensuring that you build the right partnership for you and your business is crucial.
We've written before about how to strengthen these partnerships. But how do you form a good one in the first place? Here are some tips:
Seek out skill sets that compliment yours. Do you have great ideas for products but lack experience with the day-to-day struggles of running a business? Look for a partner who has experience in this area. Not a people person? Find someone who shines in one-on-one meetings.
Consider those you've previously worked with first. You can't be sure of a person's work habits unless you've already experienced them. An article on Inc.com suggests going into business with coworkers. This way, you'll already know how they handle pressure.
Make sure they are financially stable. There are some things about your partner that you can afford to discover later. Financial ability is not one of them. If this investment will be a problem for them, you need to know about it immediately.
Are you looking to start your own business in Arizona? The Law Offices of Donald W. Hudspeth, P.C., have years worth of experience guiding entrepreneurs through the formation of new businesses. Call us today to learn more.
Categorised in: Starting a Business in Arizona
This post was written by