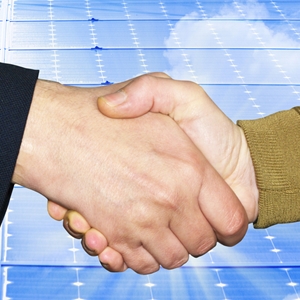 Keep Your Small Business Partnerships Strong
October 17, 2016 1:10 pm
Leave your thoughts
Having a business partner means you don't have to do all the hard work of founding and growing a company by yourself. It means you have someone who can help you come up with the startup capital and develop a business plan. Good partners are open and honest with each other throughout the process, and help each other become better businesspeople.
In fact, business partnerships are often compared to marriages. You each rely on one another, and trust each other completely. When times are good, the experience can be quite rewarding. However, when things go wrong, serious problems can develop.
Like a bad marriage, a bad business partnership can leave you upset and distracted from your goals. And just like how a messy divorce can leave one or both parties in a difficult financial situation, the sudden dissolution of a business partnership can be ruinous if not done equitably.
When you're working on a great business idea with someone else, it can be difficult to think about some of the pitfalls that may develop as you move forward together. Here are some mistakes to avoid when forming a business partnership:
Partnering because you can't afford to hire: Writing for Entrepreneur, contributor Brad Sugars pointed out that founders will sometimes partner with someone who has the skills they need because they can't afford to hire that person as an employee right away. This problem can almost always be avoided by simply drawing up an independent contractor agreement. Otherwise, the new partner may find themselves liable for aspects of the business that they did not plan for.
Not communicating: You know how couples like to brag that they can't finish each other's sentences? Turns out that doesn't apply to most people. Relationships don't work if each partner thinks they can read the other's mind, and the same is true in business partnerships. Even if you started out as the best of friends, you need to remember to be honest and upfront with each other about every issue that comes before you. There's nothing worse that assuming you know what your partner wants, only to be wrong.
Failing to plan an exit strategy: Think of it as a prenuptial agreement. If your marriage ends, you don't want your partner to take everything you have. When forming a business partnership, draw up clear terms that will determine how each of you may walk away from the business, and whether the remaining partner will have the right to buy the other out.
Are you looking to start your own business in Arizona? The Law Offices of Donald W. Hudspeth, P.C., have years worth of experience guiding entrepreneurs through the formation of new businesses. Call us today to learn more.
Categorised in: Dissolution & Partnership Disputes
This post was written by