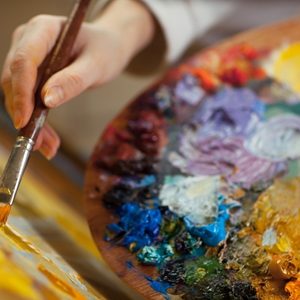 Artist sues Apple for copyright infringement
April 27, 2015 12:28 pm
Leave your thoughts
Florida-based artist Romero Britto is suing Apple and transatlantic design firm Craig and Karl over copyright infringement.
The Brazilian-born pop artist filed suit in Miami federal court, alleging that the visual centerpiece of Apple's "Start Something New" ad campaign had misused his artwork, infringing on his "trade dress" and creating unfair competition. The artist claims that Apple copied his distinct style and use of color and wrongfully attributed the piece to Craig and Karl.
"Trade dress" is typically a term used for the unique branding elements of design products or packaging. By invoking this Britto is claiming that he is more than an artist — he is a brand. The suit reads: "The Britto brand has mushroomed into a bona fide worldwide phenomenon and highly coveted lifestyle brand…no other living fine artist has the degree of consumer market penetration and recognition."
In this case, Britto describes his specific trade dress as a combination of elements, including the use of vibrant colors dominated by a strong yellow, recurring distinctive patterns and an outline of bold black strokes.
"This comes directly as a copy of what Britto does," Zarco told artnet News during a phone call. "It's either an intentional or grossly negligent act on the part of Apple."
The suit claims that, as graphic designers, Craig and Karl would be familiar with Britto's artwork, considering his substantial fame. It also alleges that the designers have copied imagery before, for use in ads for companies including Nike and The Gap.
Britto is seeking millions of dollars in punitive damages, lawyers' fees and the money Britto would have been paid for creating the image.
If you believe that your work has been copied it is important to contact a business attorney immediately. A lawyer can help you if you choose to pursue intellectual property litigation.
Categorised in: Intellectual Property Law
This post was written by