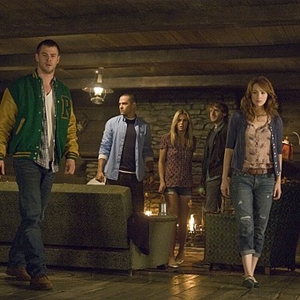 Joss Whedon sued for copyright infringement over 'Cabin in the Woods'
April 17, 2015 1:25 pm
Leave your thoughts
In 2012, "Cabin in the Woods" was lauded as one of the most original horror films in recent years. The film took a metatextual approach to horror film tropes and turned genre cliches on their heads. Now an author is claiming that the idea behind Joss Whedon's hit movie was actually his all along.
Whedon produced and co-wrote the horror comedy with director Drew Goddard, and both have been named as defendants in the case, alongside Lionsgate and Whedon's production company, Mutant Enemy.
In the complaint, filed in California federal court, author Peter Gallagher claims that Whedon and Goddard stole the idea for 'Cabin in the Woods' from his 2006 novel 'The Little White Trip: A Night in the Pines.' Gallagher claims that the works have similar premises: Both follow the story of a group of friends staying at a cabin, who are terrorized by monsters and eventually find out that they are the subjects of a horror-film scenario designed by mysterious operators.
The suit goes on to point out further similarities between the film and the book, including theme, dialog, sequence of events and even character names — the book's two female characters are Julie and Dura, and in the film the two women are called Jules and Dana. The full complaint also details 25 scene similarities.
Gallagher states that he self-published his novel and sold copies on the Venice Beach boardwalk and on Santa Monica's Third Street Promenade. He claims that since the defendants reside in and operate out of Santa Monica, they had access to his book. Access is important in determining whether a potential infringer has in fact illicitly copied the copyrighted material.
Gallagher is suing for copyright infringement and demanding $10 million in damages.
If you suspect you will be involved in intellectual property litigation at any time it's important to get in touch with an experienced business attorney as soon as possible. A lawyer will be able to ensure that your rights are protected.
Categorised in: Intellectual Property Law
This post was written by