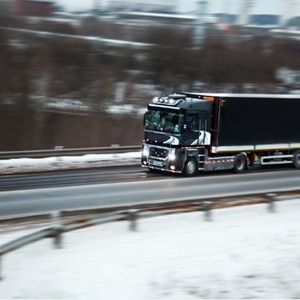 Starting a successful trucking business
April 16, 2015 12:06 pm
Leave your thoughts
Andra Rush was 23-years-old when she started her own trucking company. All she had to support her was an old van, two used pickups and her own determination. Rush is now 49 and her tiny startup is a $400 million North American business.
The trucking business can be very profitable, but it is exceptionally competitive. Starting a trucking business means knowing the ins-and-outs of trucking and business running. Growing a company — even one where you are the only employee — is about more than choosing the right routes. Here are a few tips to help you become a successful trucking business owner:
Equipment: Step one in any trucking business is having the right tools. This may be the most expensive decision you have to make as a company owner. Are you going to buy or lease the equipment? Will you go for new or used? There is no right answer — it all depends on what is right for your company. Remember that salespeople will usually present the option that suits them, not you, so instead of depending on vendors to tell you whether to buy or lease, do your research before heading out to purchase.
Customers: New owner-operators tend to get the first shipping customers from a load board, an online matching system where shippers and freight brokers post loads. However, this should never be a long-term plan. Not only are load boards competitive, you are often required to bid very low prices that leave little room for profits. Use load boards to start out, but remember that you should be making sales calls and building a list of customers on your own. You want to foster long-term relationships with shippers who will help support your company over the years.
Bidding: While you are getting started and using load boards, it is important to know the best bidding techniques. You have to bid low enough to be competitive but still be able to make some profit on your trips. This means that you must know your expenses before placing bids. Many truckers simply factor in the cost of gas as expenses, but this is a limited view of what is actually being used during a trip. Expenses often contain maintenance, repairs, truck and trailer payments, fuel and the cost of your work. The latter is especially important and tends to change depending on location. For example, pulling loads through congested cities is difficult and should cost more. Don't forget that you will also need to get back home after making a delivery, so include deadhead mileage in your expense calculations.
Administration: If you are a self-employed trucker administration will be a part of your regular duties. The back office is no less important in a trucking job. This includes understanding what permits you need, what documents you need to file and keeping up with accounting. Trucking runs on efficiency.
Cash flow: Cash flow problems are common, whatever business you are starting. Truckers that are just starting out tend to experience more cash flow problems because shippers don't often choose to pay quickly. Instead they operate on net-40 to net-60 day terms, which means that you might be waiting two months to get paid for a job you completed today. New businesses need constant revenue to buy fuel and take care of repairs, so naturally delayed payments can be a heavy burden on budgets. One way trucking companies improve cash flow is by using freight factoring, which is a type of financing that provides you an advance on slow-paying freight bills.
Whether you are a self-employed trucker or building a business of many it's a good idea to get in touch with a qualified business attorney early on. A lawyer can make sure your rights as a business owner are always protected.
Categorised in: Starting a Business in Arizona
This post was written by multi_admin