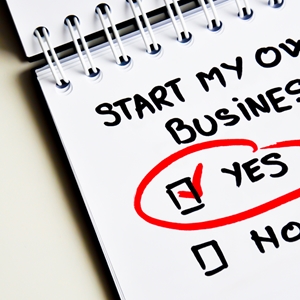 3 reasons to start a business this year
March 9, 2015 12:58 pm
Leave your thoughts
Those with experience will tell you that creating a startup is difficult. They may also add that it can be exceptionally rewarding if you are willing to dedicate your time and energy to the cause.
While the economy is slowing getting back on its feet there remains a huge lack of job security in a variety of industries. Creating your own business is one way to combat this trend. Here are a few more reasons why this year might be the perfect time to build a new company:
You crave independence and a flexible work schedule: It is undeniable that being your own boss can be freeing. If you desire greater independence (and are good at holding yourself accountable) starting an online business, lifestyle company or consultancy firm might be right up your alley. Venture-backed startups come with bold ambitions but they don't always give new business runners the independence they envisioned. While lifestyle businesses and consultancies don't grow into mammoth enterprises, they can provide flexibility and cash flow.
You enjoy helping people: If one of the downsides to your current or past jobs was the inability to truly help people, entrepreneurship might be the answer. Many individuals start businesses designed to educate, provide people with homes, stable incomes, clean drinking water and food. There are a variety of industries to join oriented towards improving the lives of everyday people.
You want to love what you do: There are many people on this planet who work because they have to. Others need a profession that they can take pride in or they won't find it worthwhile. Entrepreneurs are in the perfect position to start companies that mean something to them, that entail work they will enjoy.
If you are interested in starting your own business it is important to get in touch with an experienced business attorney who can help you get all the technical details of company-running out of the way.
Categorised in: Starting a Business in Arizona
This post was written by