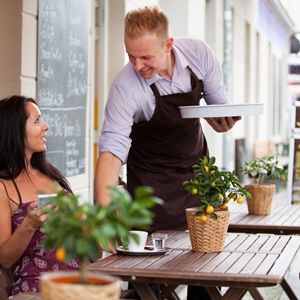 From waiting tables to opening your own startup
November 25, 2014 8:57 am
Leave your thoughts
Your career is your career, and some jobs are just jobs, but that doesn't mean the two experiences have to be mutually exclusive. There are important lessons to take away from any kind of work and carry over into your career path. Entrepreneur and CEO Jason Wesbecher recently shared on Enterpreneur.com his experience of waiting tables as a college student, and how what others may perceive as nothing more than a summer job actually helped him to launch his own startup.
While waiting tables may not seem like the ideal introductory course to being in charge of your own business, as Wesbecher notes, the seemingly mundane task of being a server helps prepare you for the non-linear work ethic of being a CEO. Here are a few examples how:
Customer service: "Being a start-up CEO is first and foremost about people," writes Wesbecher. "Evaluating them, motivating them, reading them. The four major constituencies that you must serve to be successful in this role are your employees, your customers, your investors and your family. If you can't engender trust and excitement across each one of these groups, it's only a matter of time before you are an ex-CEO." Good customer service applies to any job, whether it's running a company, waiting tables or working the cash register. The happier you leave your customers, the more likely you are to get their repeat business.
Thinking on your feet: Both in the restaurant and in a business, there's always a new problem or issue just around the corner—and oftentimes there's more just one of them happening at any given time. Being quick on your feet to improvise and prioritize whenever a customer or client voices a concern, and then resolve that problem while simultaneously juggling your typical day-to-day duties and maintaining your composure throughout all of it, is of paramount importance for keeping an operation running smoothly.
Before launching a startup of your own, make sure to hire a small business attorney that can best protect and represent your legal interests.
Categorised in: Starting a Business in Arizona
This post was written by