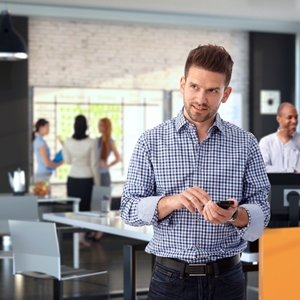 What's in a name? Why 'start-up' may send the wrong message
November 6, 2014 10:53 am
Leave your thoughts
With the economy bouncing back, the market is slowly but surely becoming more welcoming for small business owners looking to kick off their very own start-up (or second, or third, for the more experienced CEOs out there). Start-ups have become increasingly popular in recent years, with new ones springing up all over the country—and even the world—to fulfill certain needs for marketing, tech, software, security and so on. But does the name "start-up" send the wrong message?
Wall Street Journal (WSJ) contributor David Kalt thinks so. Having created two start-ups of his own in the past and now onto his third, Kalt is clearly far from being a newcomer to the small business community, and as he describes himself in his WSJ op-ed, he's never labeled any of his companies as "start-ups" even if they technically are. But why not?
"I saw [my companies] as businesses, with working products, actual revenue and well-defined paths to profitability," writes Kalt. "Startup might work for the first several months, or perhaps even the first year, of a company's life […] [but when] companies go for years calling themselves startups, it implies they're not a real business, that they're still clinging to the potential of tomorrow because they don't have a very promising reality today."
As Kalt notes, start-ups may be all the rage now, but that kind of nomenclature may work against how a company is perceived in the market as being "amateur" rather than a full-fledged professional business. With many start-ups priding themselves on their atypical work environments, open-floor office plans and youth-centric company culture, there's no denying that these kinds of businesses have definitely etched out a certain character for themselves among the corporate world. But does that point of pride also undermine their credibility?
When starting off your own business, whether you opt to call it a start-up or not, make sure to hire an expert small business attorney that can effectively represent your legal interests when need be.
Categorised in: Starting a Business in Arizona
This post was written by