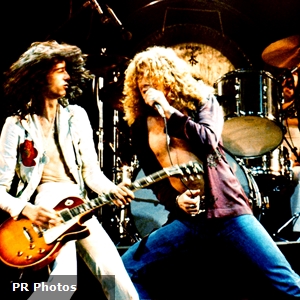 Plaintiffs win first round of plagiarism lawsuit against Led Zeppelin
October 21, 2014 12:00 pm
Leave your thoughts
The first round of litigation accusing Led Zeppelin of ripping off their legendary hit song, "Stairway to Heaven," has come out in favor of the plaintiff.
The family of Randy Craig Wolfe, whose band Spirit toured with Led Zeppelin in the late 1960s, sued the iconic rock band earlier this year with claims of copyright infringement and intellectual property theft. The lawsuit alleges that Led Zeppelin's lead guitarist Jimmy Page stole the chord progression from Spirit's 1968 song, "Taurus," when writing the 1971 hit "Stairway to Heaven." While Page has told his side of the story for years — according to trade publication The Hollywood Reporter (THR), Page claims he wrote the song in 1970 while holed up in a remote Welsh cottage — Wolfe's heirs contends that this claim is false, and that Page and other members of the band would have heard Spirit play "Taurus" during their tour together.
While that greater legal battle is still in the works, the first round of litigation — determining where jurisdiction lies — has been won for the Wolfe family, who vied for the case to be tried in Pennsylvania. Although the British band contended that they are British citizens with no holdings in Pennsylvania, and thus allowing a state judge to oversee the case shouldn't be allowed, U.S. District Court Judge Juan Sanchez has denied their motion, opening the door for the "Stairway to Heaven" lawsuit to be tried in the Keystone State.
"Defendants are subject to specific jurisdiction in this district because they make millions of dollars from the Eastern District of Pennsylvania by directly targeting this district for the exploitation of 'Stairway to Heaven' through CD sales, digital downloading, radio and television play, advertising, marketing, concert performances, other performances, licensing and otherwise targeting resident individuals and businesses to profit the exploitation of 'Stairway to Heaven,'" the complaint states.
THR adds that Led Zeppelin is free to file again to have the case dismissed from Pennsylvania jurisdiction, but for the time being, it will be a state court that presides over the litigation.
Wolfe, who went by the stage name "Randy California," died in 1997 at the age of 45. While music historians have long drawn comparisons between "Taurus" and "Stairway to Heaven," the lawsuit filed this year marks the first time that the case has been brought to court. Wolfe's heirs assert that the chord similarities merit a writing credit for Wolfe and his inclusion as an official co-author of the Led Zeppelin song.
If your business trades in copyrights and intellectual properties, it's essential to have a small business attorney on hand who knows the ins and outs of these laws and can protect your interests in the event of any legal challenges.
Categorised in: Entertainment Law
This post was written by